Information for Volunteer Drivers
Good Practice Guidelines can be seen here for Voluntary Car Schemes in Hampshire as recommended by Hampshire County Council and the Good Neighbours Support Service.
Secondary Insurance:
We provide a "secondary" insurance that covers any increases in your no-claims bonus and excess should you have an accident whilst driving for SWAG. See the Outline of Cover here.
Parking permit:
Every driver is provided with a "Hospital Parking Permit" which should be displayed when you are parked. Hospitals vary, but usually this entitles you to free parking, parking in bays dedicated for hospital drivers and sometimes parking in disabled bays (where the client is disabled). It's always best to check with the hospital.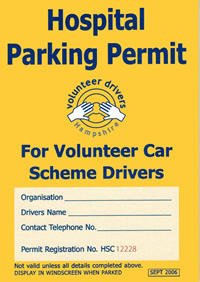 Disabled parking permit:
When the client is disabled SWAG has a "Blue Badge" (see details here) for parking in disabled bays. This is kept by the Driving Co-ordinator and may be borrowed as needed. Most disabled clients will have their own Blue Badge, of course.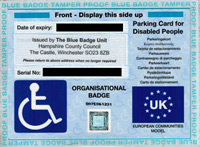 We provide each driver with parking details for all the local hospitals. – See our Maps and Directions page here.
Advice on becoming a volunteer driver from Hampshire County Council can be seen here.
If you would like to sign up as a SWAG driver contact us on 01590 681 500 or email us at info@swaghants.org.uk